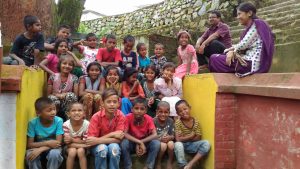 2016-2020
Perspective 3000 Foundation aims from 2016-2020 to concentrate her activities on projects in Nepal.
The activities in Bangladesh will not be enlarged and will be completed where possible.
Perspective 3000 Foundation wants to consolidate the contacts excisting and start new contacts where possible and useful.
Seen the situation in which many projects are at the moment, Perspective 3000 expects requests for financial support will continue to come.
Especially for these kind of requests Perspective 3000 Foundation made sure to built a financial reserve.
From this reserve small project proposals can be positively answered to. Via the newsletter on the website, reports will regularly been given.
Any support given by Perspective 3000 will be scrutinised, through means of [financial] reports or project visits to find out what has been realised with the donation and if the money was used according to the agreements, before a next request can be taken into consideration.
Whenever Perspective 3000 Foundation starts a new Drive, we will try to find other financing organisations to strenghten the outcome of such drive by applying for small project funds.
Drives will only be started to help Perspective 3000 Foundation enabling bigger projects.
Since 2007 Perspective 3000 Foundation has been registered an ANBI by the Dutch Tax Office.
This implies that donations to our organisation are tax deductable.
Because of the extra costs
Perspective 3000 Foundation will not apply for a CBF registration.
Perspective 3000 Foundation continues to guarantee that:
each contributed euro will be used into a specific project for the full 100%.
no salaries or renumerations are paid to board members
all additional costs are borne by the board members
Perspective 3000 Foundation aims the following activities:
In the Netherlands
Aquantance through flyers, newsletters, articles, weblog, website in Dutch and English.
Starting Drives to finance projects that are identified and screened in the receiving country.
Contact funding organisations to help finance bigger project applications.
In the receiving country
Projectscreening and zero starting point at the spot.
To investigate the wishes and possibilities in place.
Start or enlarge libraries with reading books and/or study books.
Teach collegues to contact funding organisations, make project proposals and make [financial]reports as well as in their own country as on international level.
Fund teaching materials for schools and other small organisations.
Teach how to make materials for lessons.
Encourage treeplantation and horticultural activities.
Activities and support
In Nepal
Advise when needed of Self-help Group for Cerebral Palsy in Dhapakhel, Nepal. shbn.nl www.cpnepal.org [training + managementadvise]
Advise, help finance and support of activities of Sathya Uddhyan [training + management advise]
Advise and training of Developed Nepal
In Bangladesh 
Sponsoring till 2017 of Sun Children in Pathuakhali District via DCI-world.org (€ 144 per child per year). distressedchildren.org www.rscbd.org [for children that move or stop their education sponsoring stops. No new sponsor children will be taken on).
Sponsoring after 2017 of those girls that are permitted by their parents to contimue their schooling.
Sponsoring of Sun Children in Pathuakhali District that are already in secundary education at this moment.
Bonus for girls for each year they have completed after grade 5.
Incidental sponsoring of a necessary operation of a Sun Child and/or direct family.
Completion of our Training input in Shoula.
In different countries
Incidental financial support of old colleagues and persons.
This post is also available in:

Nederlands (Dutch)