This post is also available in:

BANGLADESH APRIL 2019
We had a successful trip to Bangladesh. From February 22nd to April 3, we were in Bangladesh again, for the first time in 5 years.

MYMENSING, HYGIENETRAINING
The first three weeks we were in Mymensingh to do different training for 5 different organizations that work with disabled children.
| | | |
| --- | --- | --- |
| Mymensingh Hygiene Training | Mymensingh Day Care Center | Mymensingh Mothers Training |
Elly gave a basic hygiene training for 30 women in the first week. In the second week all went back to work in their day-care centers with different homework. Elly visited three of them and also did a homevisit. The thrird week the trainees trained a number of mothers. It proved to be a very inspiring training with enthusiastic trainees, but also very motivated mothers. Elly had a very good translater in Mikhael. From him we heard, that the mothers are training other mothers already. Super!!
MYMENSING, TRAINING LOCAL FUNDRAISING
In the meantime Mart trained a group of co-workers of the same organizations for disabled in Local Fundraising. Here too they worked hard to develop plans to raise their own funds.
MYMENSING, STATIONSCLUB
In the second week, Elly visited the so-called stationclub three times. Here children that live in the slums surrounding the railway staion of Mymensingh are received several times a week in club-form. With the uses of hand-puppets, Elly gave lessons in hand-washing, headlice and tooth-brushing. Next to that the children also did colouring, made puzzles, blew balloons and made pompoms.
| | | |
| --- | --- | --- |
| Mymensingh Local Fund Raising | Mymensingh Station club | Mymensingh Headlice Lesson |
In our spare time, we visited a circus [hilaric!!], we ate at the brothers of Taizee, we walked along the riverside, visited amuseum and ate at the parc. Of course we also had some shopping to do for the trainings. All staionclub children, Elly's trainees of the hygiene training and the mothers received a hygiene-set after the training was completed.
DHAKA, SUN CHILD HOME
Halfway our stay in Bangladesh we shifted. In Dhaka we were hosted by RSC and Elly did a training for the teenagers of the Sun Child Home[SCH]. The subjects were Adolescensce and Child Rights.
With the smaller grils there were headlice and tooth-brushing lessons. Of course colouring and playing with the hand-puppets was included as well.
| | | |
| --- | --- | --- |
| SCH Dhaka Teenagers | SCH Dhaka Children | SCH Dhaka tooth brushing lesson |
Mart started again Local Fundraising, but the time [only 2 days] proved to be too short for that.
SHOULA, FIELD OFFICE
With the lounge, a big passenger ship, we navigated from Dhaka to Kalaiya. We departed form RSC Dhaka Office around 3PM. The boat leaves at 7PM and arrives the next morning around 8AM. A beautiful restful trip, with Bangla scenery passing by, especially because we had a reserved hut.
BUILDING SITE
In Kalaiya we first went to the RSC-office and for breakfast. Next we visited the plot where the new library will be built. The plot is perfectly situated near a big school for girls. We could see preperations for building already took place as a big heap of sand and stones were already delivered.
| | | |
| --- | --- | --- |
| Lounge | Library Building site (1) | Library Building site (2) |
SHOULA TRAINING
At lunchtime we arrived at the Shoula Field Office, our place for the next 10 days. These 10 days we again worked hard. Elly gave a combined training to 18 ladies; group organizers, tutors and [almost adult] Sun Children. The subjects were Hygiene, Child Rights and Teenagers.

SHOULA SUN CHILDREN
On the 2 Fridays and Indipendance Day, we visited 5 new Sun Children at their homes. We also visited the girls that will go to class 11, as we wanted to be sure all families were aware of the conditions of the sponsorship.
The sponsoring will be for 2 jaar [the duration of this study-part],
The girls must work hard to get positive results,
The girls cannot marry during the 2 years they are still studying.
When they stop their study earlier, their parents have to pay back the amount already paid to them. All parents and girls agreed, although the girls had to sigh deeply due to the pressure put on them to have positive results. Their fathers were concerned about their doughters safety. The girls look already quite adult, but are only 15 in reality.

On the day of our departure from Shoula, we invited all by Perspective 3000 sponsored Sun Children to give them a present. The girls received a 3-piece and the boys a lungi and a gamsha[the local dress].
| | | |
| --- | --- | --- |
| Shoula SC teenagers | Shoula SC girls | Shoula SC boys |
SHOULA SUCCESSEs and FAILURES
We encountered some successes, but also some failures during our stay.
Ibrahim, the boy that was operated 5 years ago for clump-feet, walks normal!!!. His sister Sultana, however, stopped going to school. She looks very adult with her 14 years.
Aisha, the baby, who's mother died at her delivery, has grown into a healthy todler, who just started pre-school.

| | | |
| --- | --- | --- |
| Ibrahim & Sultana | Aisha | Sabine |
Poly, our Sun Child with epilepsy, is not using her medicines regularly. When all goes well, she stops taking them and the family always is surprised when her epileptic attacks return. At that moment she had 2 to 3 minor attacks a day. We gave the family 10 days to go to the doctor again for new prescriptions. [They could only show a receipt of 2016!] Poly also had stopped going to school, most of last year. We said we would stop the sponsorship, but we would consider continuing her medication if she could show a new prescription. Helas, the long talk we had with the family did not gave any result. Only when they came at the last venu, and she did not receive a present like the other Sun Children, it seemed to hit the family, sponsorship had really stopped.

Sabina, another Sun Child that worries us. She is a darling with a psychiatric mother. Her mother sometimes dissapears for months. Luckily Sabina receives good care from her mothers brother-in-law and his family. As soon as mother returns, however, she claims Sabina and often prevents her from going to school. This really is a situation where we have to look into the wel-being of Sabina,
who is litteraly trapped into the situation, so we decided to continue her sponbsorship as long as possible.
The money, we invested in the uplifting of this family, has evaporated, so we 'help' now via the brother-in-laws family.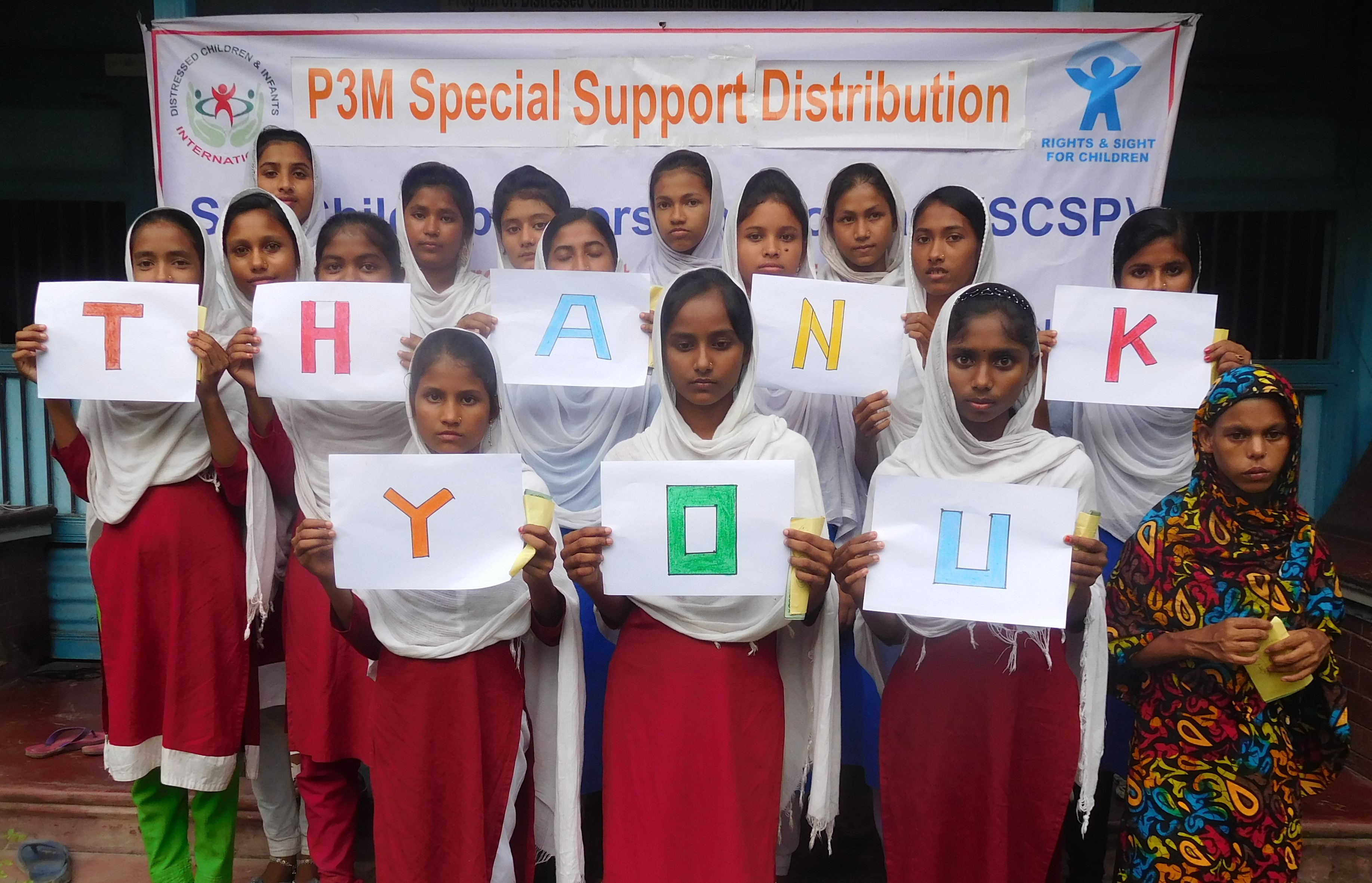 P3M sponsored Sun Children 2019
DHAKA VISIT of WILDE GEESE
After a very quiet boat-trip back to Dhaka, we had 2 days left for shopping and playing with the kids of the Sun Child Home. Also we had a lunch-meeting with 2 visitors of Wild Geese, whom we introduced to Rajen and … from RSC. They informed Wild Geese extensively about all RSC's programmes.
All in all, we look back at a fruitful journey and stay in Bangladesh.