January 2018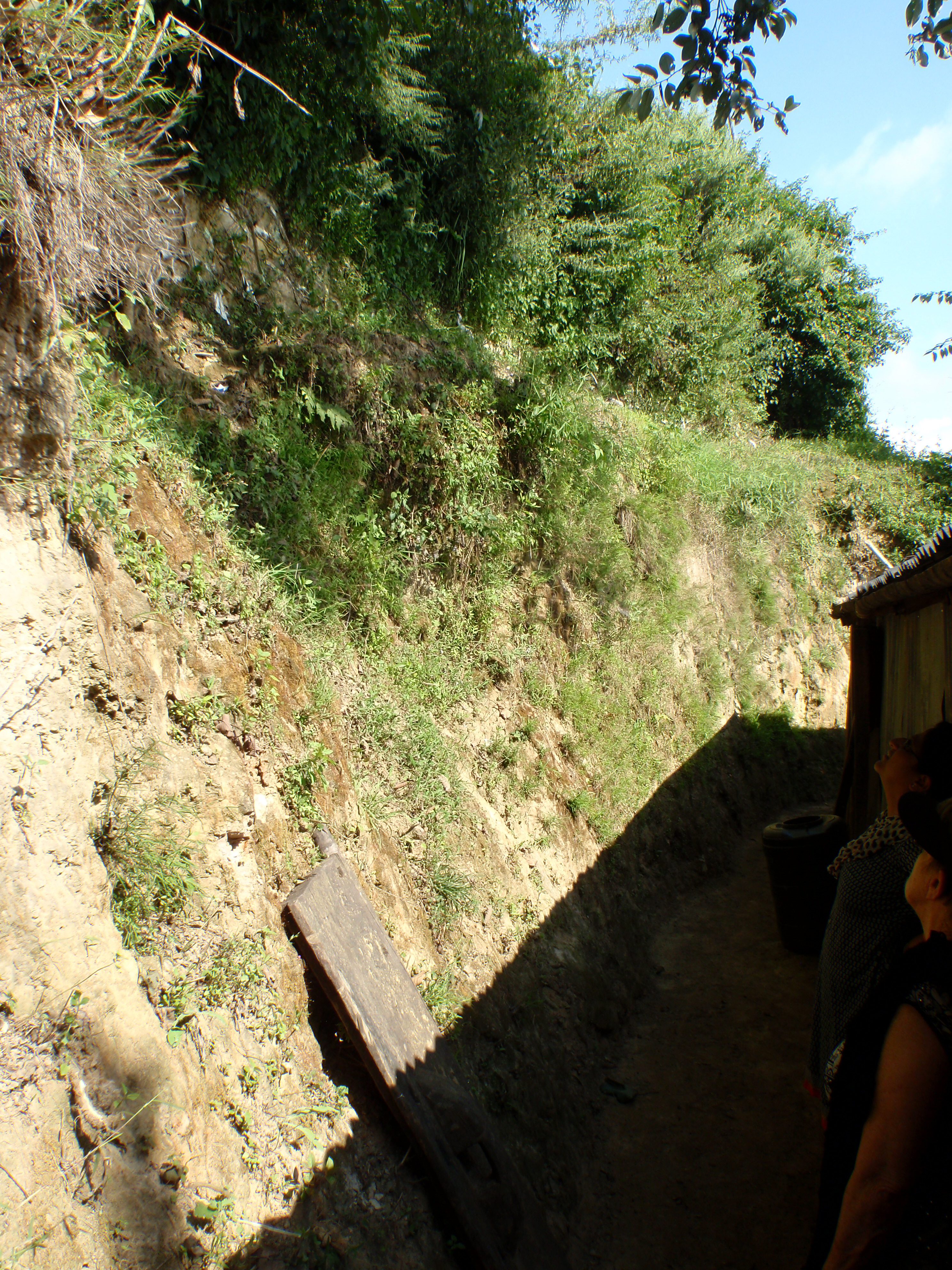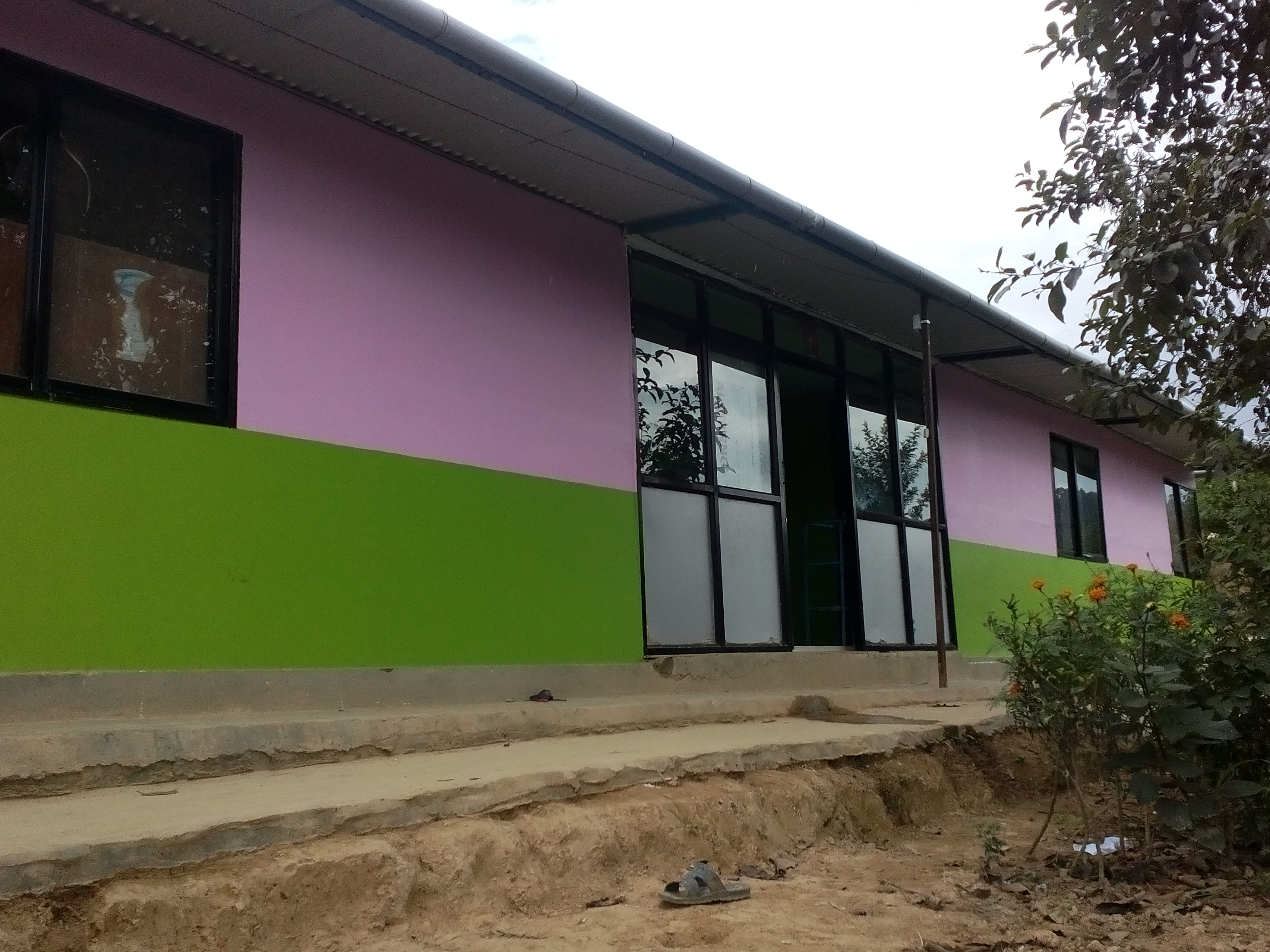 ….because here is the erosion
NEPAL
Sathya Uddhyan School and Hostel.
The 2nd part of this project can start now!!! The school is ready and in use. Now Wild Geese has received our part of the money and transferred it to Nepal including their share to start with the building of the Hostel.
However, during the rainy season, it became clear that starting with building the Hostel was not possible unless a retention wall was build first to protect the plot from further erosion. This retention wall now became priority. Another € 8.000 extra is needed for it. Together with Wild Geese, we are looking in a way to finance this. Wild Geese, rightfully wants to see the drawings and a detailed estimate first. Rashmi agreed to send this to us.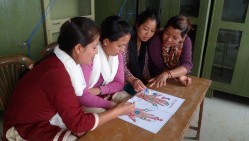 Theory of hand washing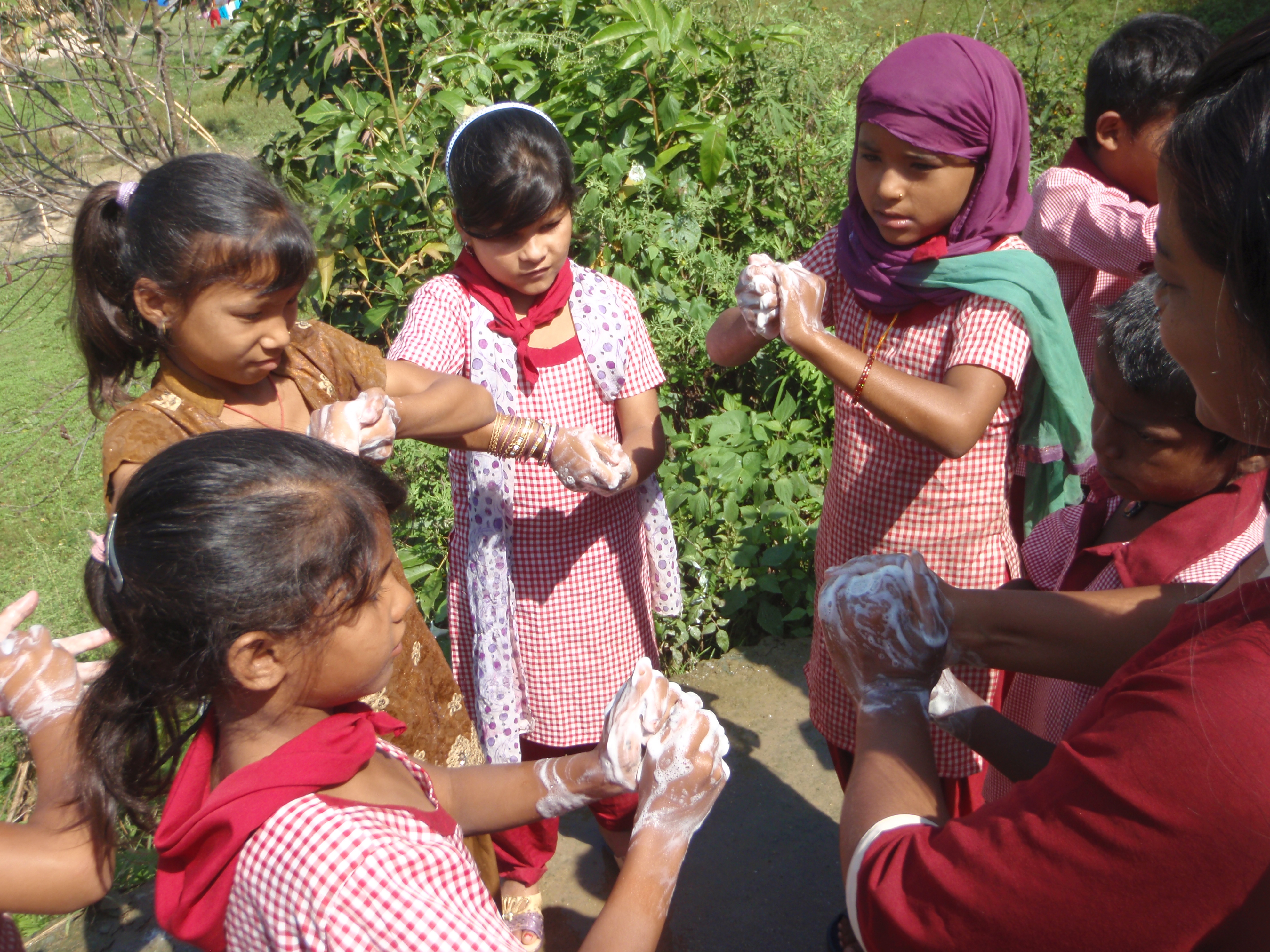 Training.
From September 19 until October 20 we visited Nepal. Main reason for this was a hygiene-training for Sathya Uddhyan School. The teachers already were trained in hygiene in April 2016, but in the meantime some teachers resigned and 3 out of the 5 teachers were new. The training has sunk away, so we decided to redo it and also decided to help them put it into practice. The hygiene knowledge is there, but translating this knowledge into practice is a lot more difficult. The teacher were trained extensively for 3 days and after a short brake, we started with 2×3 days of practical training. All 5 teachers had to prepare for a hygiene lesson about each subject of the training and teach the children. Next step was to put it into practice with the children.
Thus lessons and practice about head lice, hand washing and tooth brushing passed as well as keeping clean the class, the bedrooms, the toilets, the kitchen and the environment.
Together the teachers made a plan to continue these lessons and repeat them after each holiday, at least 5x a year. Teachers are responsible for the lessons and the practice, but Rashmi as head of the school cum hostel is responsible for the overall planning of this.
We should not forget the fact that none of these children have been taught hygiene at home. They have to be reminded to practice it on a regular basis. [just like all other children of the world for that matter]. For example, by asking each time a child returns from toilet: have you washed your hands?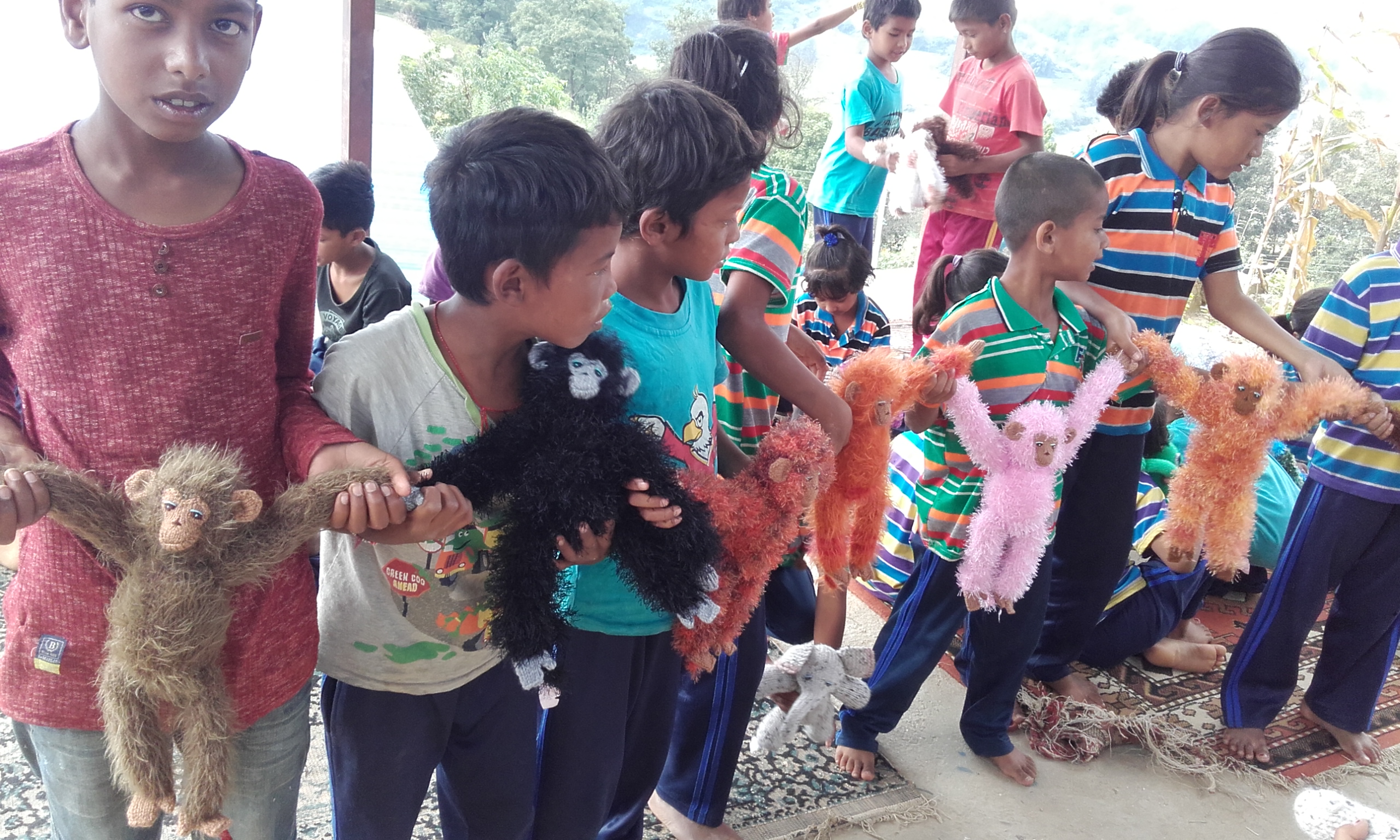 Cuddly animals from TWINBEARS.
Apart from hygiene lessons, of course there was also time to read books, to do games and sing songs with the kids. Also they always are ready to dance and perform theatre.
We invented the big animal game, where each child received the correctly guessed cuddly animal.
Like this, monkeys, zebra's, rabbits, elephants, tortoises, parrots and bears received a new owner. All
these animals were lovingly knitted by 2 ladies from TWINBEARS, a charity that knits twin animals.
They sell it in the Netherlands. One twin goes to the Dutch child that buys the twins. The other half
of the twin goes to a child that has nothing. In this case to the children of Sathya Uddhyan. All
children were very enthusiastic about their animal. Hey hugged it as if it was a life pet. Most of them
also wanted to say goodbye to the twin [in a picture that went with a letter about the origin of the
TWINBEARS]
Footballsets from Reigerboys Heerhugowaard.
We already had received them some time ago, but now we actually took a lot of football-shirts, trousers and socks with us to Nepal and handed them over to the Sathya Uddhyan school. With the 140 and 164 measurements they were quite large for most of the children. The majority of the group namely are pre-primaries! It caused a lot of hilarity to see how these kids found solutions to be able to wear the shirts. Thanks Reigerboys!!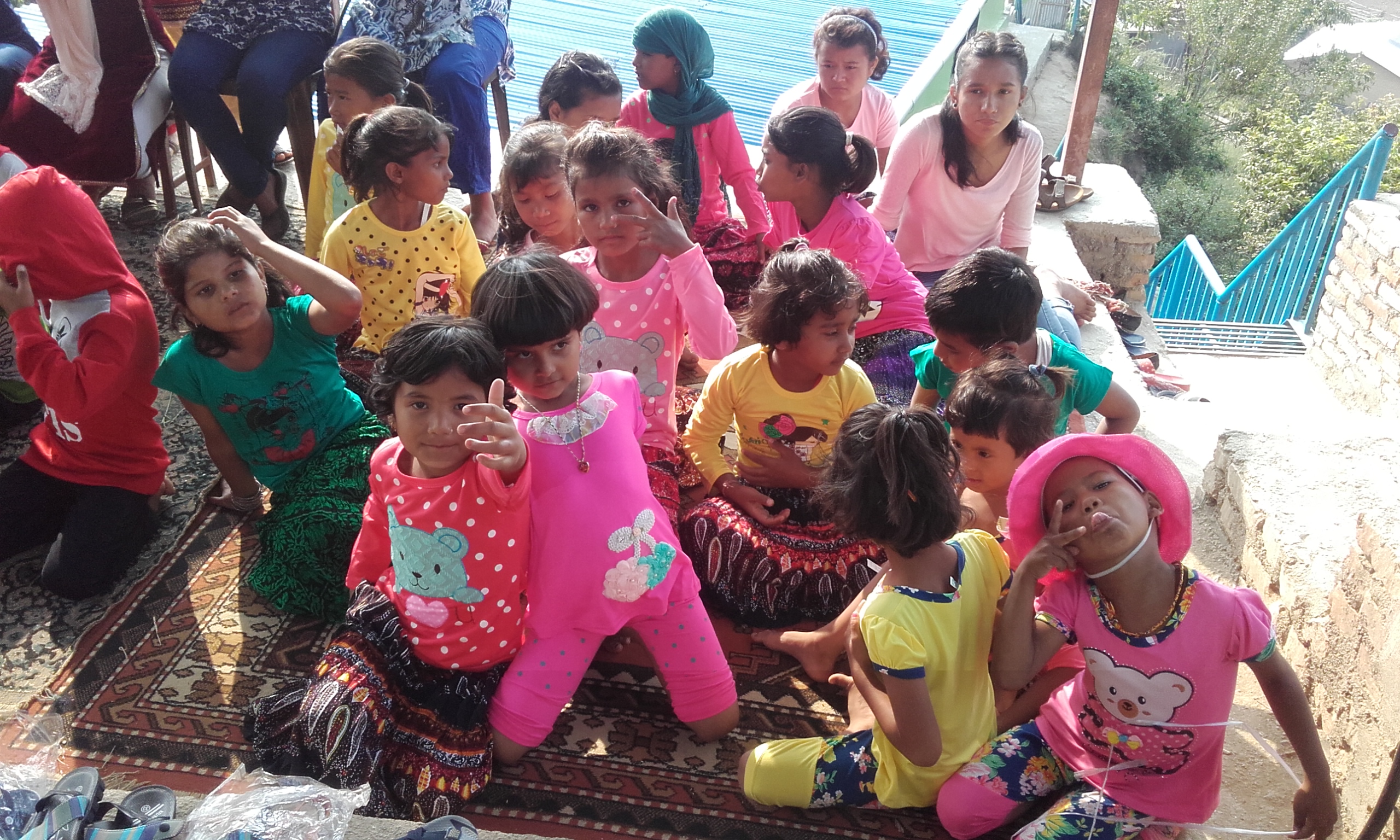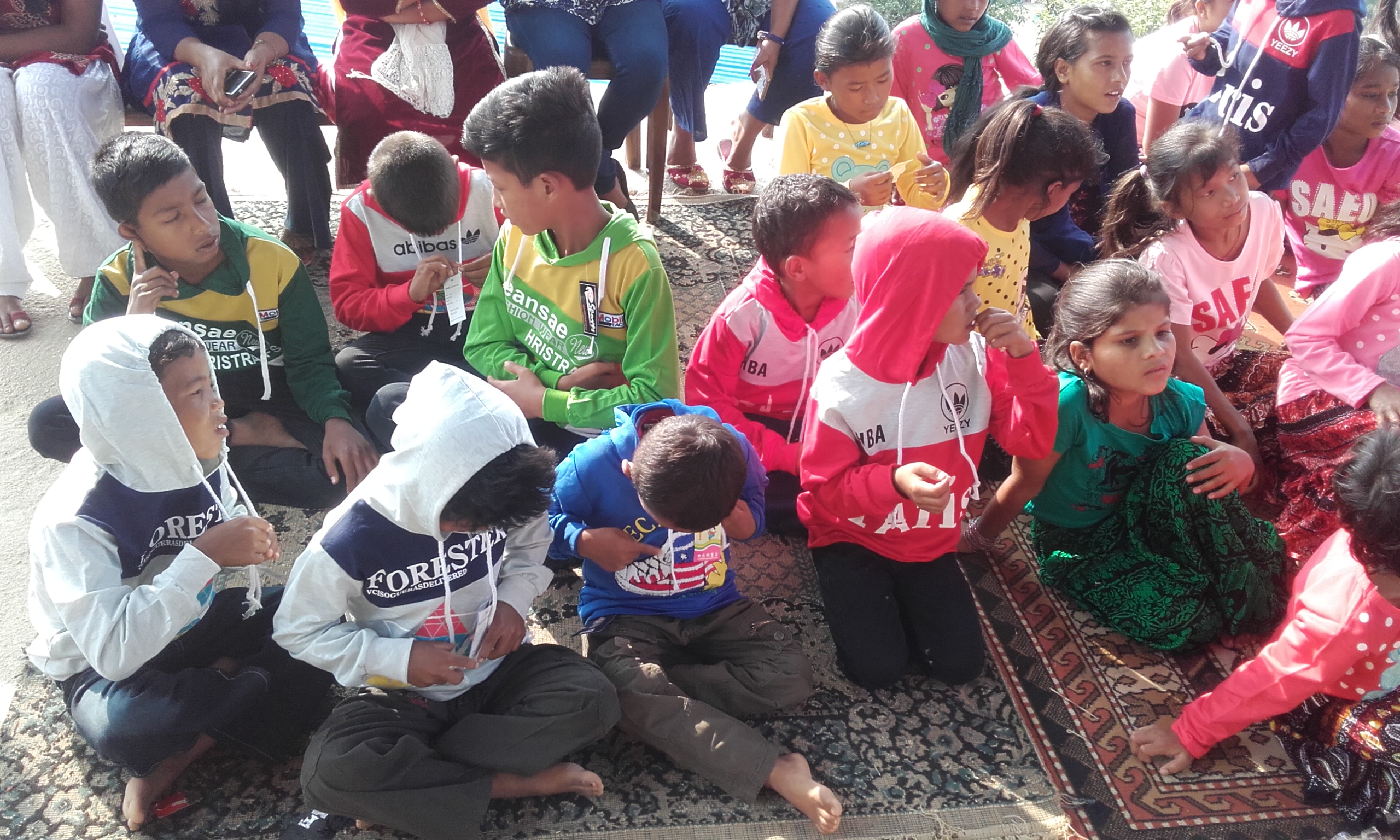 New outfits.
Dasain, the biggest Hindu Festival took place during our stay in Nepal. Next to a clean sweep, which we included in the training, tradition says that everybody buys new clothes.
P3M decided to take care of that this year. We sent Rashmi to buy a new outfit for each child, including sandals. It was a lot of fun when all children immediately wanted to put on and show their new clothes.
Developed Nepal.
Unfortunately, there is not much to mention here. Because most students have completed their study by now and are busy looking for jobs or just recently started working, the focus is not so much on volunteering. We discussed the possibilities with Bishal to look for a small group that would be willing to donate time, money or expertise on a regular basis for a longer period. When found such volunteers they could look into the kind of activities they would like to explore.
We also suggested that they might look into the e-learning of 'Change the Game' Academy, where they can find useful ideas to look for local funds. It might give them a boost. See about 'Change the Game' Academy under Netherlands.
We suggested the same to Sathya Uddhyan and are waiting for the response of both.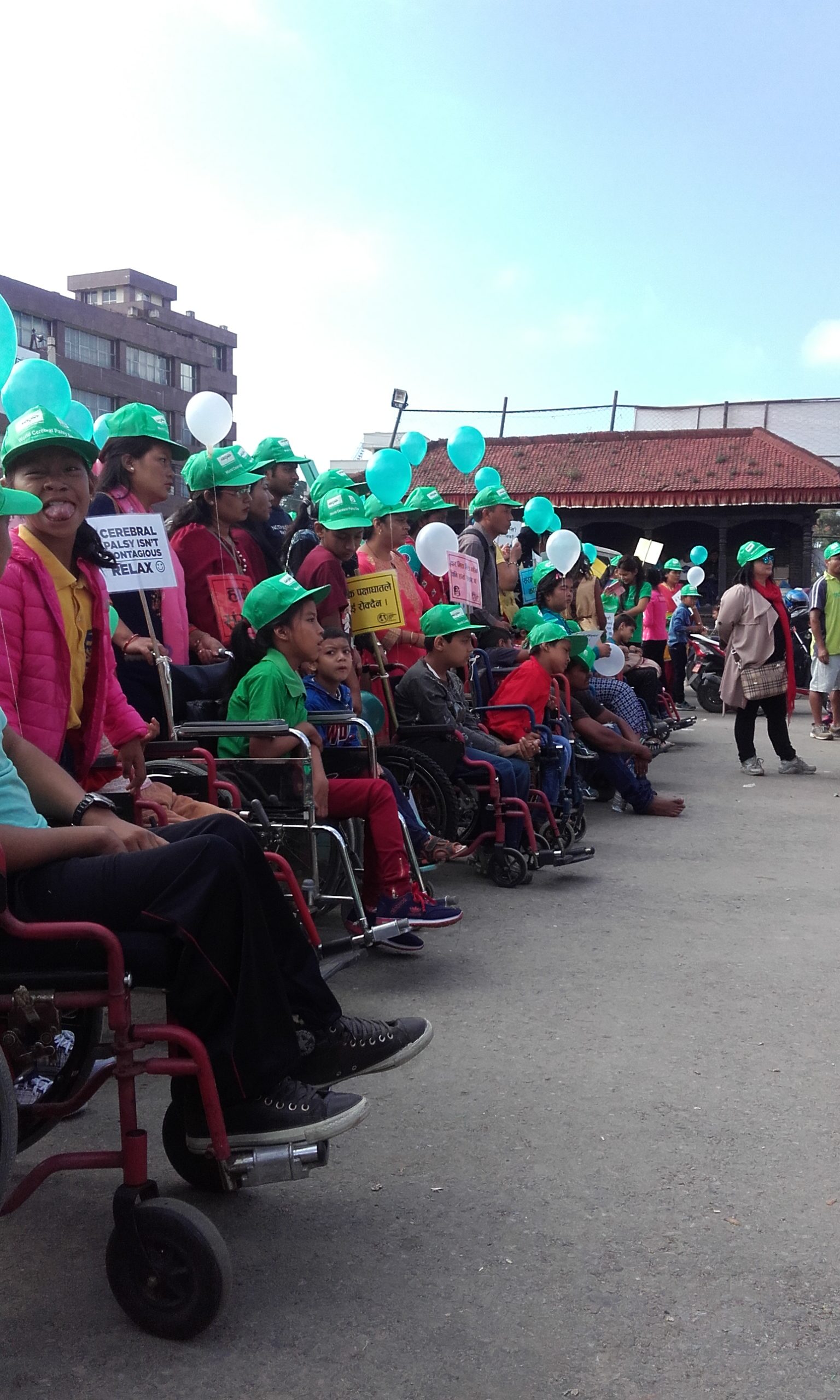 World Cerebral Palsy Day.
While being in Nepal the SGCP [Selfhelp Group Cerebral Palsy] held a rally on International Day of the disabled. We joined them for support.
BANGLADESH
Sun Child Sponsorship program.
Via DCI/RSC we received the short progress reports of all Sun Children that are sponsored through Perspective 3000. Also the families of 9 girls received a bonus because their daughters successfully completed another year in secondary school and had started the next scholastic year. We received report on what these families used their bonus for.
By now P3M transferred the 2nd instalment for all though us sponsored Sun Children.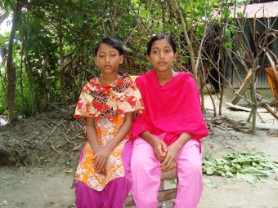 Two of our 'bonus girls'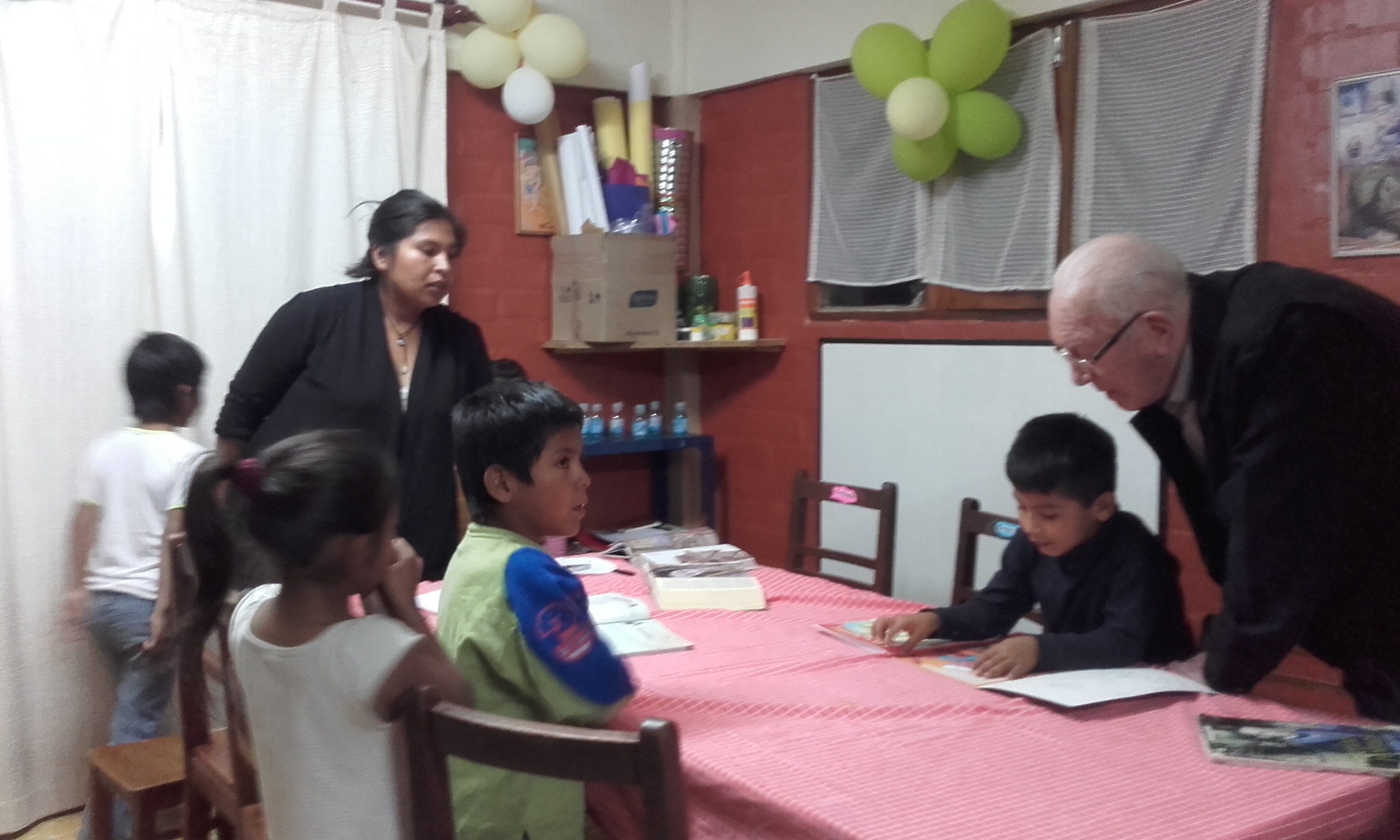 Making home work at La Althea
BOLIVIA
In May this year we visited a home for children whose parents are imprisoned in Bolivia [see our archive drive for 2005]. This home 'Althea' is being supervised by 2 Augustinian brothers. At the moment 120 children live there in small family-like settings. Each home consists of 10 children mixed in age and presided by a 'mother'. Once a week they visit their parents in prison. The rest of the week they go to school, do homework and live in the home. The children looked cheerful and well cared for. We donated Bls.5000, about € 700,- to be used to buy extra playing materials.
NIGER
We sponsor Ramo, our former neighbour in Niger, on a yearly basis with a small amount of money. Recently we received message that her 2nd daughter Habsatou [39] and her 2month old little son had a severe accident. The baby died and Habsatou was in coma for 10 days. She is at home now and slowly recovering from a severe head-wound. She does not have any memory of the accident. We keep in touch.
NIGERIA
Last year we sponsored the study of 2 sons of our former counterpart Virginia in Kaduna, Nigeria. It is going well again with the family and this year they can manage themselves.
Patience however, has a difficult time. Last year her husband died quite suddenly and a short time later her eldest son. She does not have any family that might be of help and her friends are not wealthy. So, we decided to help her by sending 1x3months a small amount, so her son can go to school and she will be able to set up a small business. She is thinking of different possibilities.
In the NETHERLANDS
This autumn we dedicated extra time for networking and training. I went to a training of Wild Geese about local fundraising called 'change the game'. With this training we can support and advise our local partners to set up a fundraising activity in their own country. The program is available on internet free of costs and has a full e-learning program.
This post is also available in:

Nederlands (Dutch)